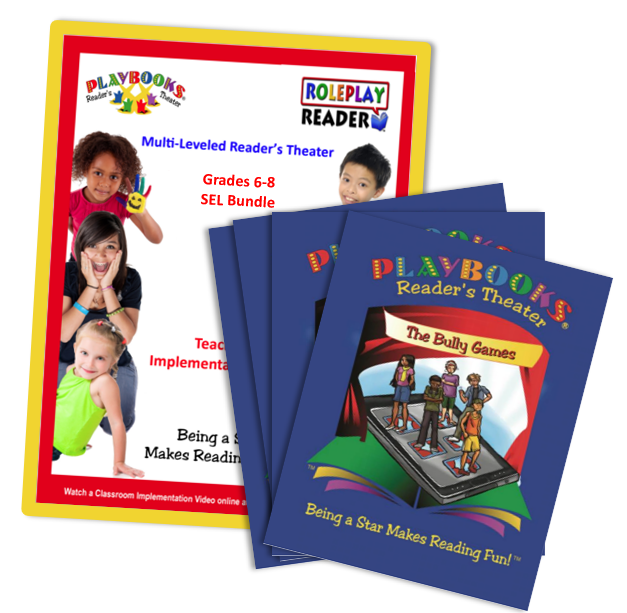 Grades 6-8 Social Emotional Learning (SEL) Bundle
Description
Resources
Shipping
We have assembled collections of K-8 Playbook® stories in three grade spans into Social Emotional Learning bundles along with everything you need for a successful Reader's Theater program. 
In addition to covering related topics, Reader's Theater itself is a social activity with students reading aloud, coordinating with others, and gaining confidence in their reading abilities despite their level. 
Social Emotional Learning Bundle for Grades 6-8 ($577) 
(Includes 10 titles with 6-8 copies each - Total of 70 Books.)
Stories Included:

G3-5 One Thousand Stories/Patchwork Blanket (passing down traditions)
G4-6 The Baseball Equation (Confidence)
G4-6: "Armando and Amanda" (Responsibility)
G4-7 How Sandy Got Her Spin (basketball)
G4-8 A Snail's Pace Race (Achievement)
G4-8 Jacob's Magic Mittens (Family)
G4-9: "Soccer Stars" (Forgiveness, Honesty)
G5-6: "Ana Conda" (Goals)
G5-12: "The Bully Games" (Bullying)
G6-9 Surfing at Sunrise (Goals)
Other topic bundles include:
Folk Tales, Myths, and Legends
Math & Science
Healthy Themes

Each Bundle Includes: 4-10 Printed and Bound Copies of each Title depending on the number of roles, & Printed Teacher's Guidebook
Each Playbooks® Title comes with access to the following additional resources:
Quick-Start Implementation Instructions
Step-by-step Implementation Instructions
Pre- and Post- Assessment Module
Recommended Reader Assignment Forms for Each Story
Award Certificates
Reading Level Correlation to Fountas & Pinell, Reading Recovery, DRA, and Lexile.
Links to all Reprintables online
Links to Online Implementation Videos
Links to Supplemental Activity Worksheets
Links to Staff Training Webinars
And even more online tools....
Implementation Tools – Playbooks® Publishing (readerstheater.com)
We offer two formats:
PRINT: Books that are already printed and ready for you to use, and
VIRTUAL/DIGITAL: Stories that are emailed to you that you can print yourself.
For our printed books, you will be able to see the shipping price within your shopping cart. If you order via a quote, we will include it as a line item in the quote. Please note we only ship printed books in the U.S. but our virtual options are great for international use. 

For virtual products, you should receive a link to your purchases via email within 1-2 Business days after purchase. If you don't receive the link after that timeframe, please check your junk mail. If not, email us at info@readerstheater.com and we will resend. 

***IMPORTANT - Playbook® Stories purchased in electronic form may NOT be shared, copied, or distributed, other than as stipulated and allowed by the publisher herein, without further additional written permission. Please note that virtual access for each copy is for one school only and additional purchases of $15.00 per story are required for each school. This is to protect our authors to assure they receive their rightful royalties for districts with multiple schools. If you are aware of any breach in our policy, please contact us at 800-375-2926. Thank you for your compliance. ***

All Virtual/Digital Products are Non-Refundable once digital delivery is provided.

For print titles, we are still experiencing some COVID related slow downs, and they will ship within 4-8 business days from our warehouse. We typically ship UPS ground. If you would prefer faster shipping options or need the materials by a certain date, we will be happy to provide a quote for expedited shipping and/or handling. Email us at info@readerstheater.com. For more info
/pages/shipping-refunds-policy
Why Playbooks®?

Playbooks® Reader's Theater stories are unique because each character's dialogue is presented in a different color throughout the story and more importantly, the roles are written at different reading levels. This allows teachers to assign easier roles to younger or struggling students and harder roles to older or more advanced students while they all read the same story together in a small group.

According to a Loyola University study, word recognition and reading comprehension improves 27% when text is presented in color compared to bold text, and 35% when presented in color compared to contrasting fonts. Check out our special format below.
PATENTED FORMAT
Playbooks® are the ONLY Reader's Theater books that are color coded and multi-level. Playbooks® are easier to read and allow teachers to include students of different levels.

This specialized format is protected under U.S. Patent #7,456,834. Only Playbooks Publishing, Inc. can provide you this ultimate format. Don't settle for lesser copycats. 
COLOR-CODED
Each reader's dialogue text, not just the name in the margin, appears in a different color, making it easier for students to follow their character roles, quickly see where their part starts and stops and how much they will read, and easily be prepared for their next turn to speak. This also helps to create a sense of ownership and security in their role which leads to increased reading confidence and involvement. Color does not represent the level of the role, however, so that students do not know they've been assigned an easier or harder role. 
MULTI-LEVELED
Easier and harder roles in the same story help students avoid stumbling in front of their peers, allowing them to read aloud with confidence and accuracy. Playbooks® multi-leveled character roles are edited using a proprietary leveled word dictionary and strict sentence structure guidelines, so students achieve ultimate success and fluency among their peers. We do not simply assess what an author has written to determine what level the text might be; we actually edit and level the roles!


RESEARCH BASED
Research shows four repeated readings sufficiently improve reading fluency. Most traditional texts can NOT hold students' attention for up to four separate readings. Reader's Theater truly engages students and is the most popular form of "repeated guided oral reading", creating a fun experience for students and teachers! Check out the study for our Playbooks® program.